We hear you – sometimes the appearance of wearing braces can leave patients of any age feeling apprehensive. That's why Dr. Michael Kierl offers a suite of discreet, nearly invisible applications that effectively treat orthodontic issues. No one will know you're wearing them, unless you tell them!
Clear & Customized by Dr. Kierl
Dr. Kierl is able to outfit patients with clear customized aligners, designed by the doctor himself and molded in a local lab. These aligners are discreet, lightweight, and can be removed when you eat, drink, brush and floss your teeth, or for special occasions. With Dr. Kierl's customized clear aligners, there's no need to modify your diet and lifestyle. These aligners move your teeth into their corrected position over time, while their smooth contours ensure nothing pokes you or loosens during the treatment.
Lingual Braces
Lingual braces are the invisible alternative for patients who are seeking a more discreet appliance, and clear aligners are not an option. Placed behind your teeth and fitted with a Suresmile wire, these unique braces are created using state-of-the-art technology and are 100% customized to the shape of your teeth and dental situation. Lingual braces have the unique prescription that Dr. Michael Kierl creates for you, built-in to ensure you get the results that you want. With lingual braces, you get efficient, effective tooth movement with great aesthetics.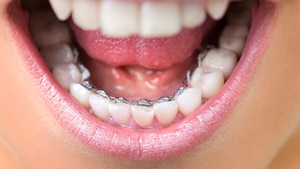 Hybrid Treatment
This treatment consists of a few months of traditional metal or ceramic braces, then the patient switches to clear aligners for the remainder of the treatment period. Using traditional braces allows some of the more significant tooth movements to occur. During the aligner phrase, your teeth will move more easily in the aligner phase. With hybrid treatment, the patient spends much less time in traditional braces!
Not every patient is a candidate for "invisible" orthodontic applications, the best way to determine if these treatments are right for you is to contact Michael Kierl Orthodontics for a complimentary consultation today.